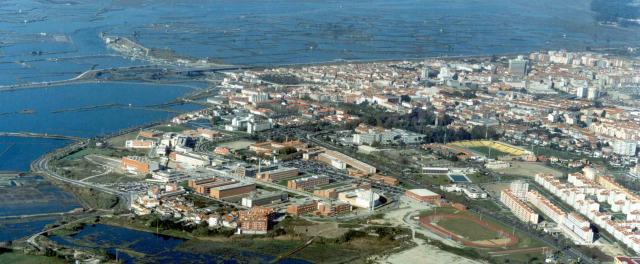 O XXVI Encontro Nacional de Astronomia e Astrofísica terá lugar no Anfiteatro de Física do Departamento de Física da Universidade de Aveiro (ver vista aérea acima onde o campus se encontro no canto inferior esquerdo, em frente aos canais de Aveiro)
The XXVI National Meeting of Astronomy and Astrophysics will be held at the Physics Lecture Theatre, in the Physics Department of the University of Aveiro (see aerial view above where the campus is on the bottom left, facing the canals of Aveiro).
Localização:
A localização do Departamento de Física no campus da universidade encontra-se indicada no mapa abaixo. A linha azul indica o percurso desde a estação de comboio de Aveiro (zoom out). Um mapa detalhado do campus pode ser obtido aqui (o Departamento de Física é o número 13).
Campus location:
The location of the Physics building within the Campus is indicated in the map below. The blue line indicates the directions fom the train station (zoom out). For a detailed plan of the Campus click here (the Physics building is number 13).
A partir de outras cidades em Portugal:
De comboio, existem serviços regulares urbanos, regionais e rápidos de e para a área do Porto (~35 min - 1h), Braga/Guimarães (~1h30~2h30), Coimbra (~25 min-1h) e Lisboa (~2h00-2h30). Há também autocarros que ligam Aveiro a várias outras cidades no país (veja aqui um exemplo).
From other cities in Portugal:
Aveiro is very well connected to other cities. By train, there are regular urban, regional and fast services to and from the areas of: Porto (~35min-1h), Braga/Guimarães (~1h30-2h30), Coimbra (~25min-1h) and Lisbon (~2h00-2h30). There are also several express coach services from many cities around the country (click here for example).
Da estação de comboio:
O campus fica a uma distância a pé de cerca de 25-30 minutos. Há também autocarros urbanos (números 5, 6 e 7; o número 6 pára no campus), com partidas regulares da estação de comboio, onde poderá também encontrar taxis.
From the train station:
Once in Aveiro, the Campus can be reached on foot in 25-30 min. There are also city buses (numbers 5, 6 and 7; number 6 stops inside the campus) which depart regularly from the train station, where you can also find taxis.
A partir do estrangeiro:
Se viajar a partir do estrangeiro, o aeroporto mais próximo fica no Porto e o segundo mais próximo em Lisboaa. Ambos os aeroportos possuem várias ligações ferroviárias. Se viajar a partir do Porto, a forma mais fácil é utilizar o metro do aeroporto até à estação de Campanhã (linha E), e depois o comboio de Campanhã até Aveiro. A partir do aeroporto de Lisboa poderá também utilizar o metro até à Gare do Oriente (linha vermelha), de onde partem comboios regulares para Aveiro. Na Gare do Oriente poderá também encontrar vários serviços de autocarro expresso para vários pontos do país.
From abroad:
If travelling from abroad, the closest airport is Porto and the next to nearest is Lisbon. Both are well connected by train. If travelling from Porto it is easiest to take the metro line to Campanhã train station from the airport (line E), and then take a train from Campanhã to Aveiro. From Lisbon aiport you may also take the metro to the Oriente train station (red line), from where there are regular trains to Aveiro. At the Oriente train station you may also find several express coach services to several points around the country.
Morada/ Address:
Departmento de Física
Universidade de Aveiro,
Campus de Santiago,
3810-183 Aveiro, Portugal

An inspiring promotial movie about Portugal